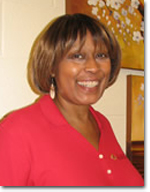 I served on the Senate from 2008-2011. Within that time I served on and chaired the Staff Affairs Committee, and I served on the Senate Executive Committee. Those experiences afforded me greater insight into the inner workings of the university and the connections that every constituency, including staff and students, have to each other as well as to the institution as a whole.

I was honored to be able to work on programs and issues such as the Board of Regents staff awards, endorsement of the Council of University System Staff (CUSS)'s domestic partner benefits review, and the retirement program selection process review. My proudest moment came when we able to establish a family care resource and referral program for the campus, a first step toward getting full service child care for UMD.

My tenure on the Senate has led me to continue service to the University, including through the President's Commission on Women's Issues (PCWI), the Senate Committee on Equity, Diversity, & Inclusion (EDI), and the University's Campus Transportation Advisory Committee (CTAC). I look forward to a continuing collaboration with undergraduates, graduate students, faculty, and fellow staff members to make UMD one of the best places to work and learn in the world.
Cynthia Shaw